Design:

Alessi "La Stanza dello Scirocco"

Design:

Alessi "Infinity Clock"

Design:

Karlsson "Sunburst"
Exceptional designer wall clocks
The main feature of the wall clock "Lox" from Sigel is the dial. Each hour is divided into 5 units - an unusual design decision, as this leads to an overload of markings. These, however, literally attract the eye and develop an almost hypnotic effect due to the frequency and concentric arrangement. The fact that this design won the Reddot Design Award in 2014 does not surprise us! A closer look at this designer wall clock in our 3D view is definitely worth it.
Design:
Alessi "La Stanza dello Scirocco"
"La stanza dello Scirocco" literally means "The room of the Scirocco, the hot southeast wind from the Sahara" - a refuge room, which can be found in old country houses in Sicily. The designer of this unusual wall clock, Mario Trimarchi, comes from Sicily and has transformed his experiences into this design. The wall clock consists of a coherent piece of stainless steel which is divided into whirlwind-like split-off rectangles all around. The different angles of inclination of the rectangles provide an exciting depth effect and play with light and shadow - just try our 3D view and see for yourself! The term "eye-catcher" is a clear understatement.
If you like it a little warmer, more organic and cozy, the wall clock design "Calm" by designer Jette Scheib for Nextime is an excellent choice. A frame of simple, natural wood encompasses an area of gray fabric - real textile fiber, not a picture print! Together with the large, rounded hands, the wall clock looks like a modernly furnished, cozy room - so what must happen to the room where the clock hangs? If you are looking for something special, you have found it now!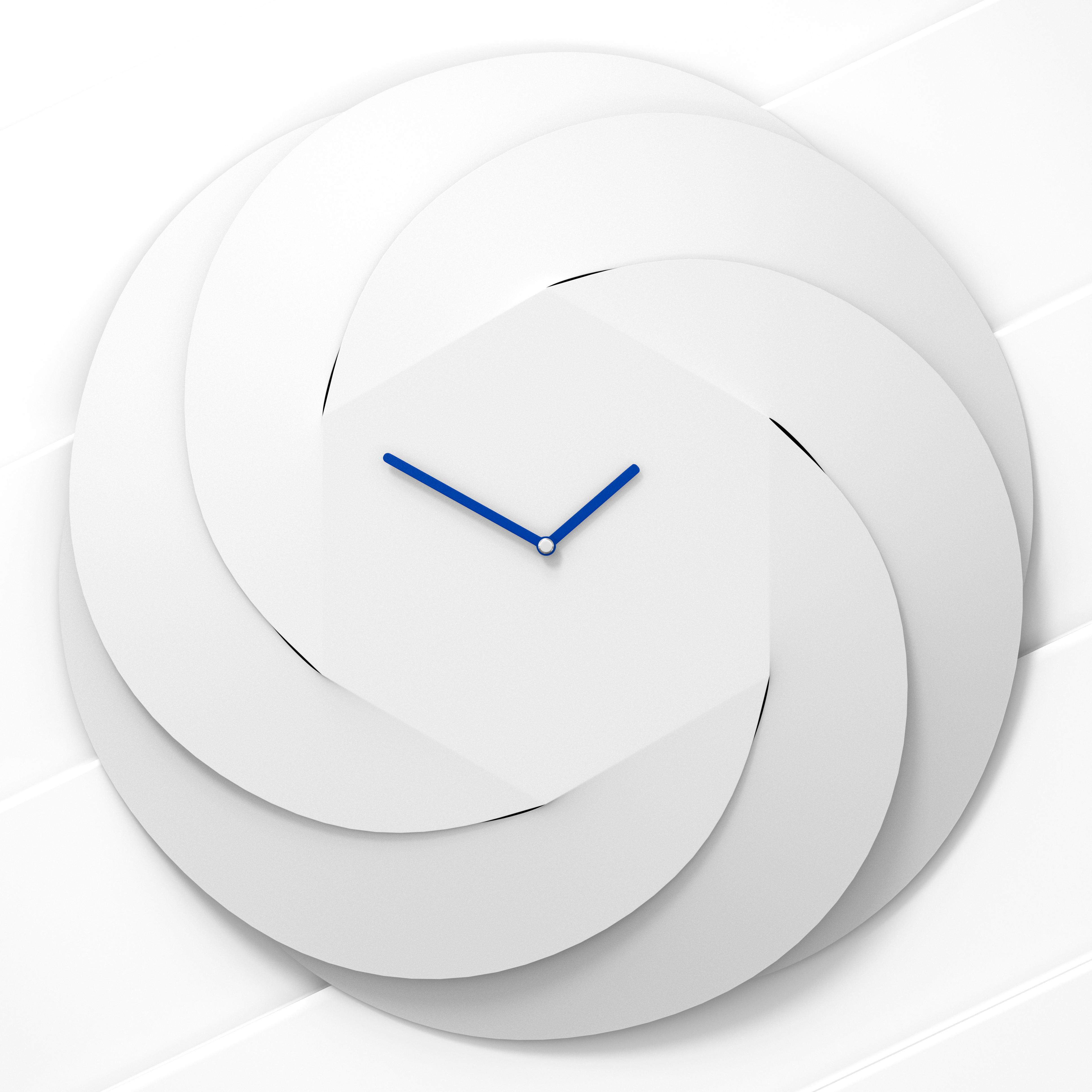 Design:
Alessi "Infinity Clock"
The "Infinity Clock" by Alessi lives up to its name and impresses with its repeating spiral shape in brilliant white. The wall clock design combines a "hard" geometric hexagon in the middle with soft, curved lanes leading away from it, evoking timeless figures such as the Möbius strip or a hypnosis spiral - shapes that carry infinity in itself and thus fascinate. Trippy!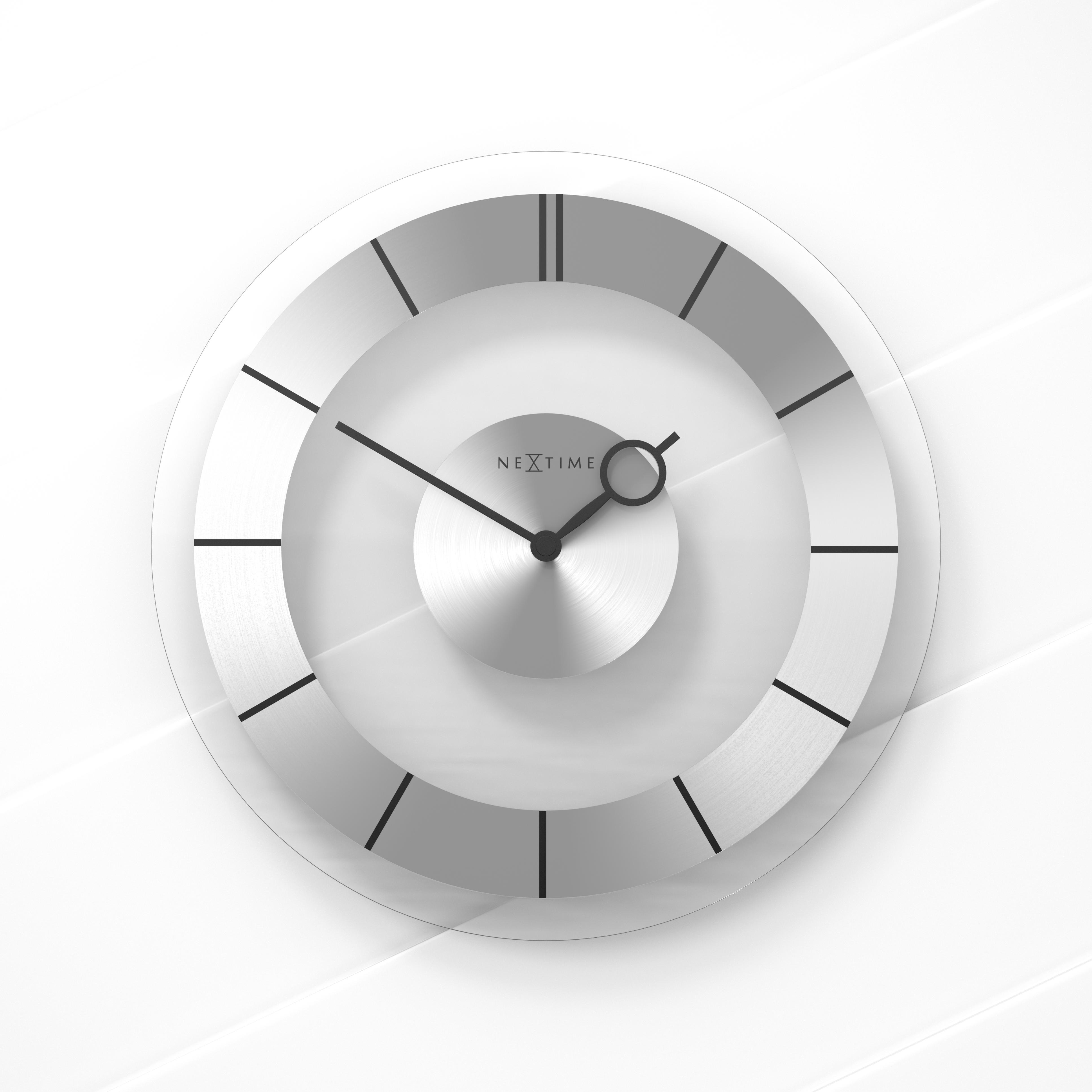 Founded in 1970, the "Nextime" design company revives the designs of the 60s with its glass and metal wall clock - without forgetting to add a modern touch. Thanks to the materials it looks simple and elegant, while the hour hand with the ring gives it a certain je ne sais quoi. A stylish element in any office and living room.
Is it a steering wheel? A car rim? A prop from Wall-E? Not at all! One of the most unusual wall clock designs comes from Stelton. The minute hand is designed in such a way that it also forms the outer shape of the clock, while the hour hand does not have the connection to the outer edge. Original, innovative and an absolute eye-catcher in any room.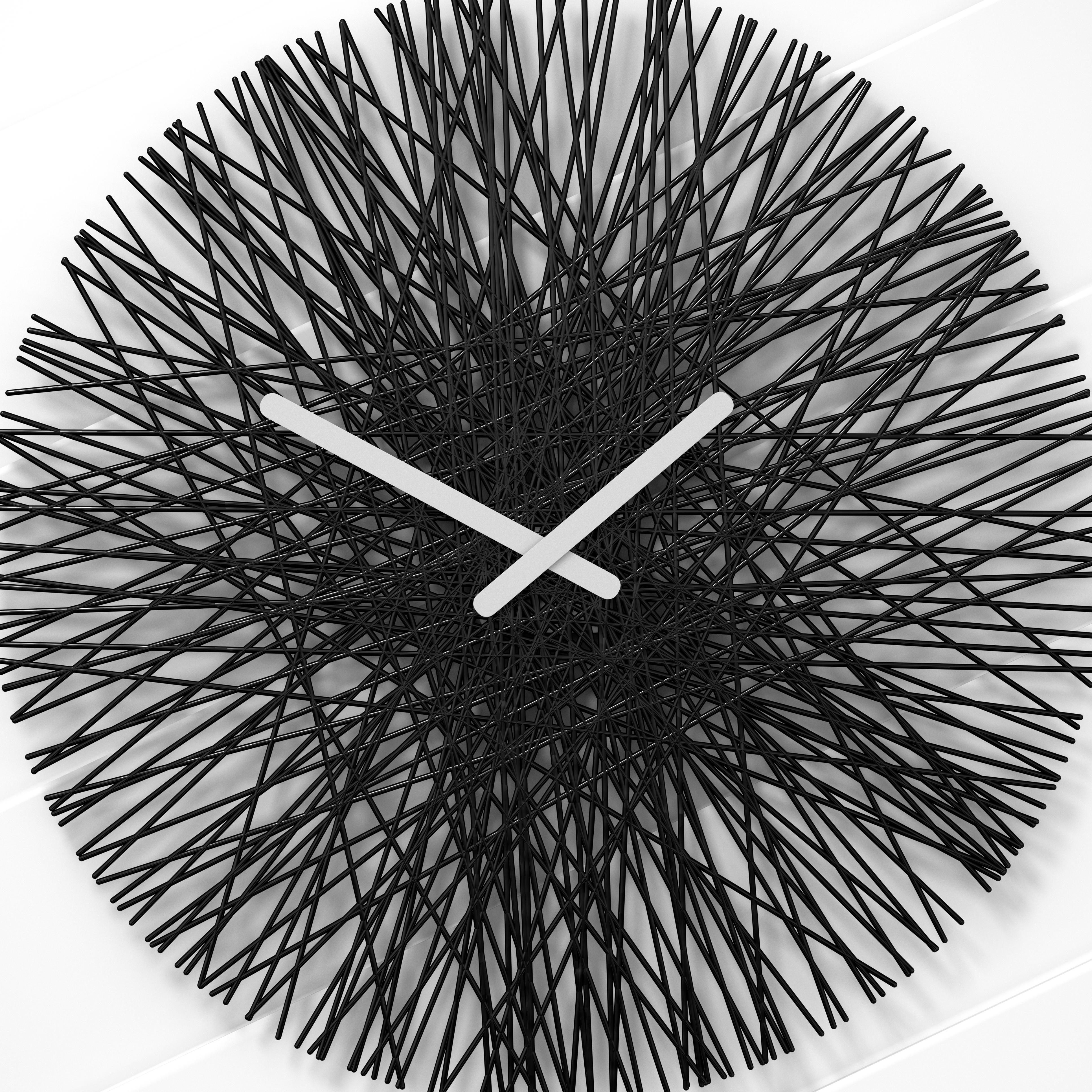 Koziol is a design workshop from the Odenwald region in Germany, founded in 1927 by Bernhard Koziol - and even today all design objects are still manufactured there in the town of Erbach. This is also the case with the "Silk" wall clock, whose wild yet artfully balanced arrangement of fused plastic rods manages to fascinate us every time we look at it. One of the company's official statements reads, paraphrasing, "We make art that people can pick up every day because it is useful." And while you obviously don't carry the wall clock around with you every day, we can wholeheartedly agree - artful, functional design, made in Germany!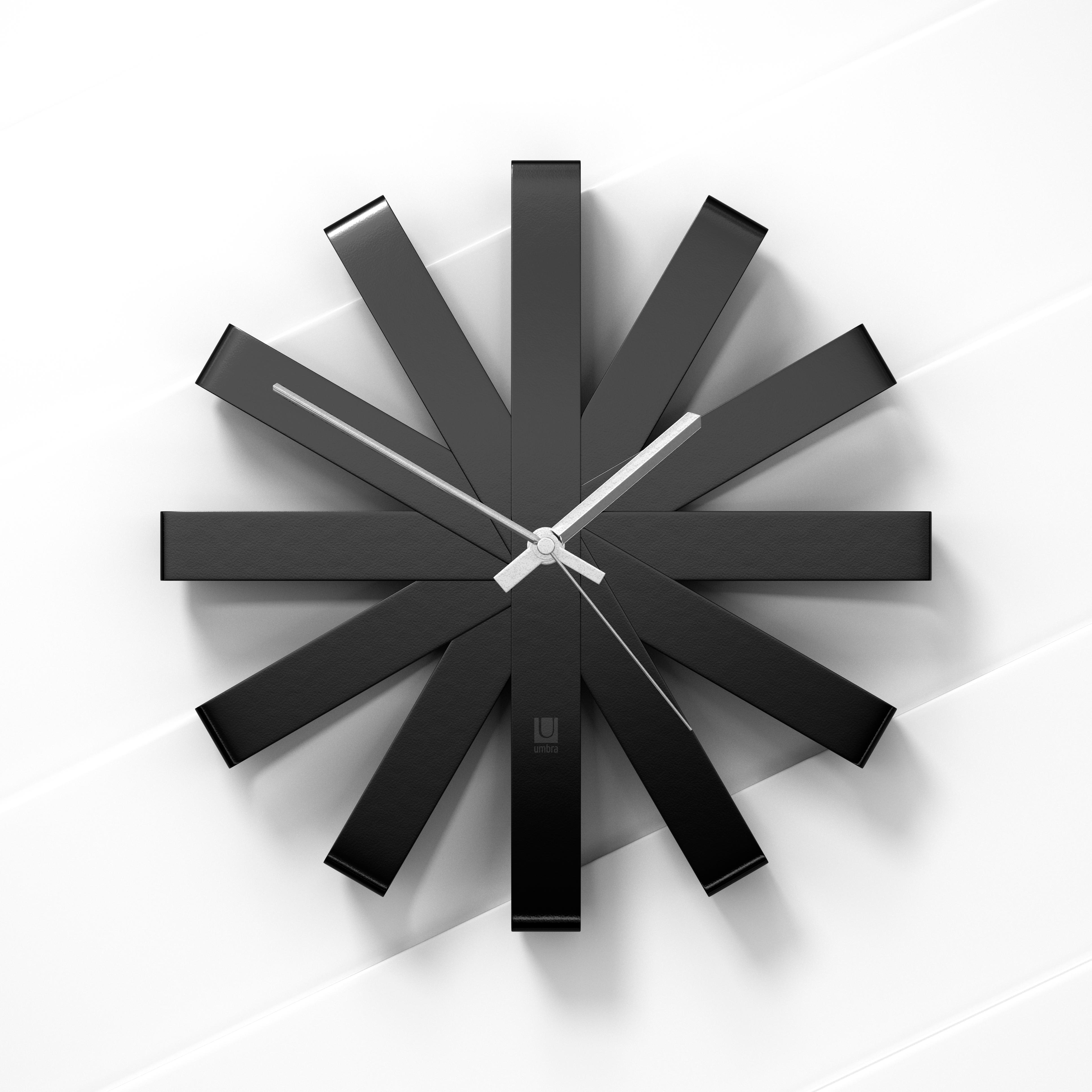 The design workshop Umbra inspires us with its wall clock design "Ribbon" - another example where the name matches the aesthetic perfectly. Six metal straps are bent and twisted against each other in such a way that they resemble the bow on a gift box - and while it's a pretty angular, constructed and modern bow, the metaphor still works brilliantly in our opinion. The clock is available in the material/color variants matte black, copper & stainless steel - all three are a sight to behold.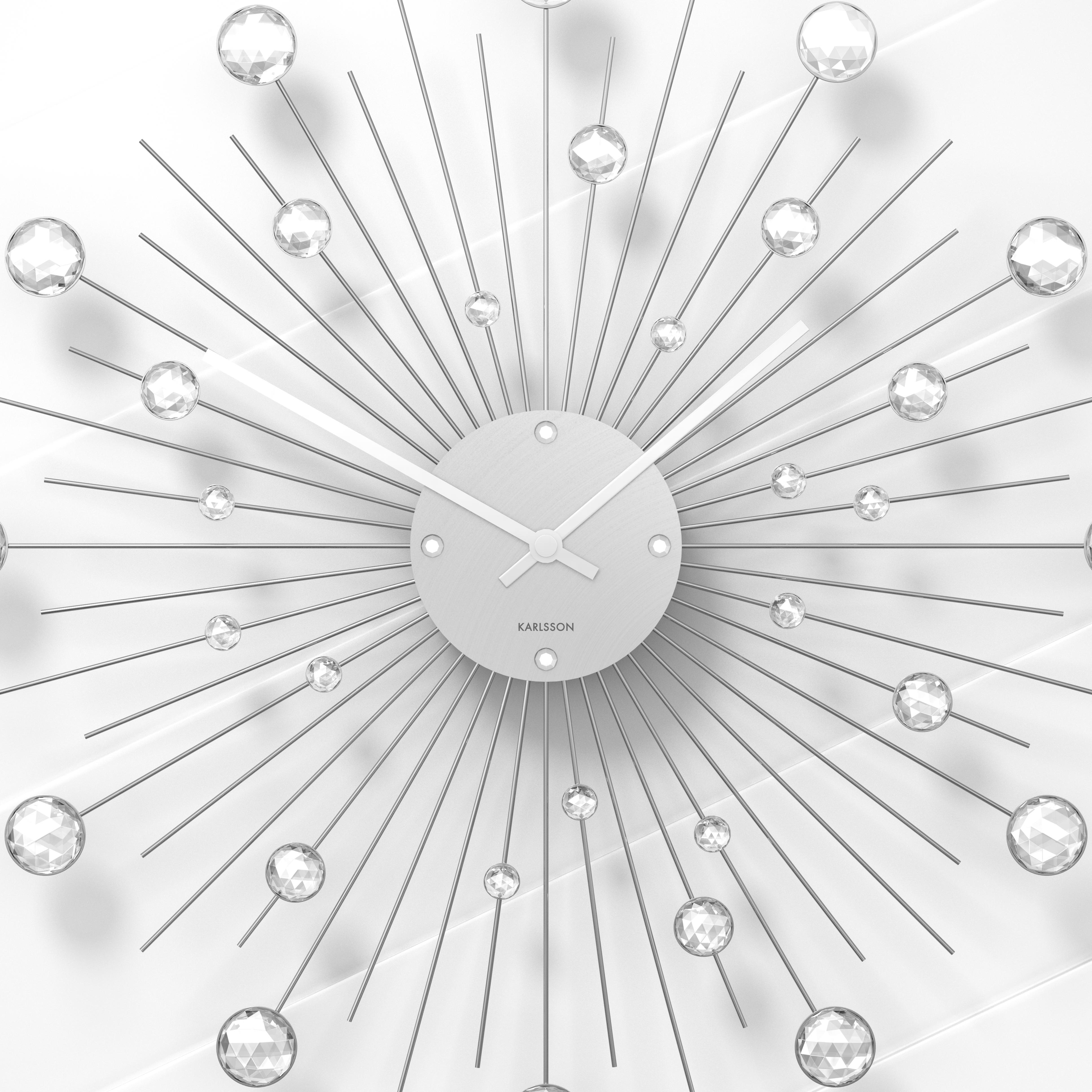 Design:
Karlsson "Sunburst"
The designers at Karlsson have taken a completely different design direction: Starting from a small metal disc, thin metal struts extend far into the room at quarter-hour intervals. Attached to the metal struts are glass crystals in 3 different sizes - these are also responsible for the name "Sunburst" and embody the "explosion of light". The largest "diamonds" mark the hour sections, while the smaller ones are tastefully distributed on the struts without following a fixed pattern. In our opinion, the design performs a tightrope walk between kitsch and pompous, and indeed brightens up any room.
The "Cross" wall clock is a collaboration between German designer Jette Scheib and Dutch designer Chantal Drenthe and features a combination of cast stone (polyresin) and copper-colored metal elements. The visual division of time is made by small cylindrical plates in 12-minute intervals, while the hour and minute hands get their expansive shape from narrow metal straps and are thus defined only by their contour. We can't really classify this design, which in itself shows that we're dealing with something special.
More products on Designgeek