Design:

Alessi "La Stanza dello Scirocco"

Design:

Alessi "Infinity Clock"

Design:

getDigital "Binaer"

Design:

Moma "Timesphere"

Design:

Likeluk "Vintage"

Design:

Karlsson "Sunburst"

Design:

Calleadesign "Karl"
Exceptional designer wall clocks
The main feature of the wall clock "Lox" from Sigel is the dial. Each hour is divided into 5 units - an unusual design decision, as this leads to an overload of markings. These, however, literally attract the eye and develop an almost hypnotic effect due to the frequency and concentric arrangement. The fact that this design won the Reddot Design Award in 2014 does not surprise us! A closer look at this designer wall clock in our 3D view is definitely worth it.
Design:
Alessi "La Stanza dello Scirocco"
"La stanza dello Scirocco" literally means "The room of the Scirocco, the hot southeast wind from the Sahara" - a refuge room, which can be found in old country houses in Sicily. The designer of this unusual wall clock, Mario Trimarchi, comes from Sicily and has transformed his experiences into this design. The wall clock consists of a coherent piece of stainless steel which is divided into whirlwind-like split-off rectangles all around. The different angles of inclination of the rectangles provide an exciting depth effect and play with light and shadow - just try our 3D view and see for yourself! The term "eye-catcher" is a clear understatement.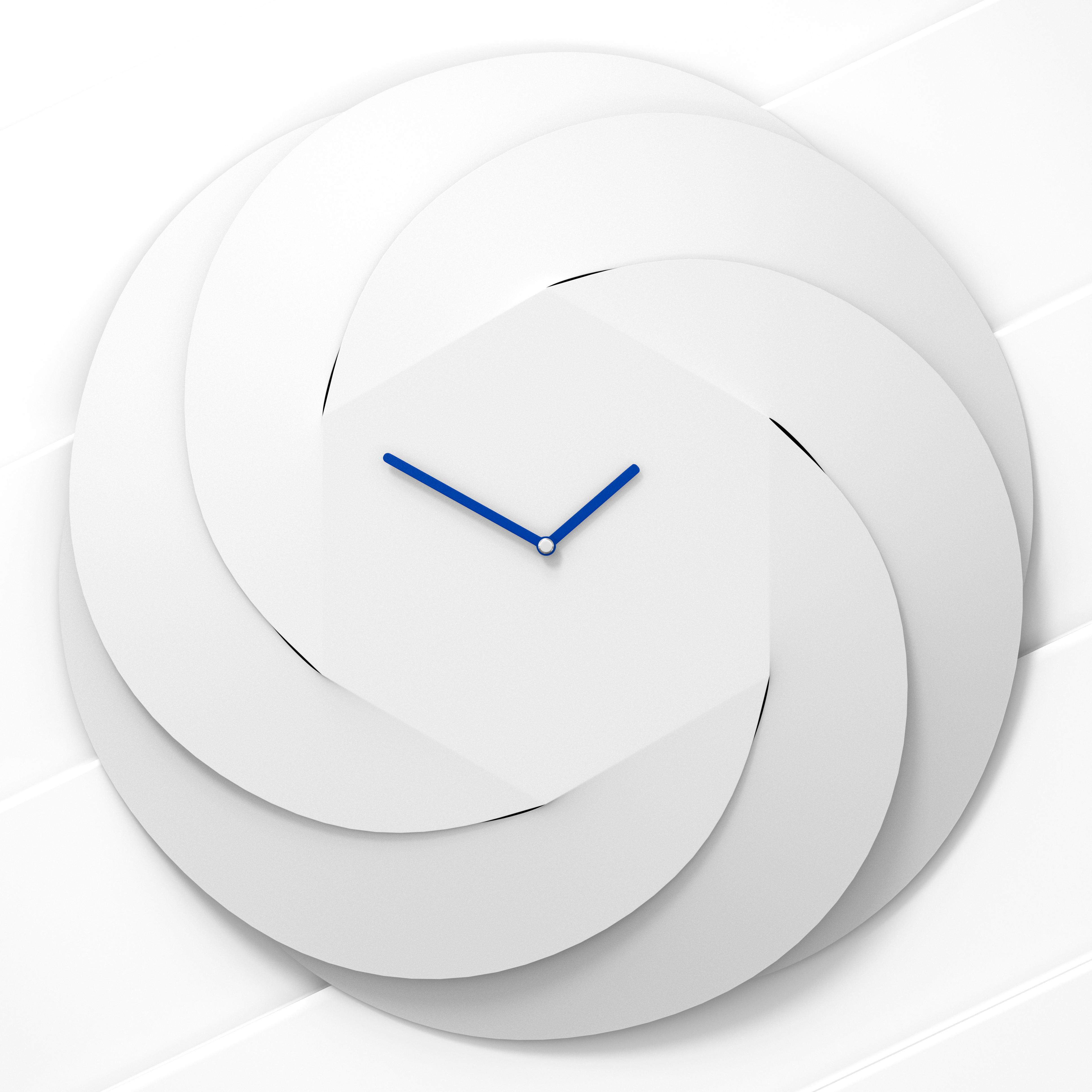 Design:
Alessi "Infinity Clock"
The "Infinity Clock" by Alessi lives up to its name and impresses with its repeating spiral shape in brilliant white. The wall clock design combines a "hard" geometric hexagon in the middle with soft, curved lanes leading away from it, evoking timeless figures such as the Möbius strip or a hypnosis spiral - shapes that carry infinity in itself and thus fascinate. Trippy!
Design:
getDigital "Binaer"
Digitalization is everywhere: even in the design of wall clocks!
Getdigital.de
is an online retailer that, according to its own statement, specializes in the sale of "geek stuff". And while this sounds like a shop for worthless bric-a-brac, the "binary wall clock" turns out to be a high-quality product with a great design. Apart from the noble optics, most guests will probably comment on one specific thing: "How exactly do you read the time…?" We can help with that! The currently displayed time is 1:50:25 pm. The values of the squares within a vertical row from bottom to top are 1 - 2 - 4 - 8. You get the final digit of a vertical row by adding up all illuminated squares. So from left to right: (1) (1 + 2) (1 + 4) (0) (2) (1 + 4). This results in 13:50:25. Get it?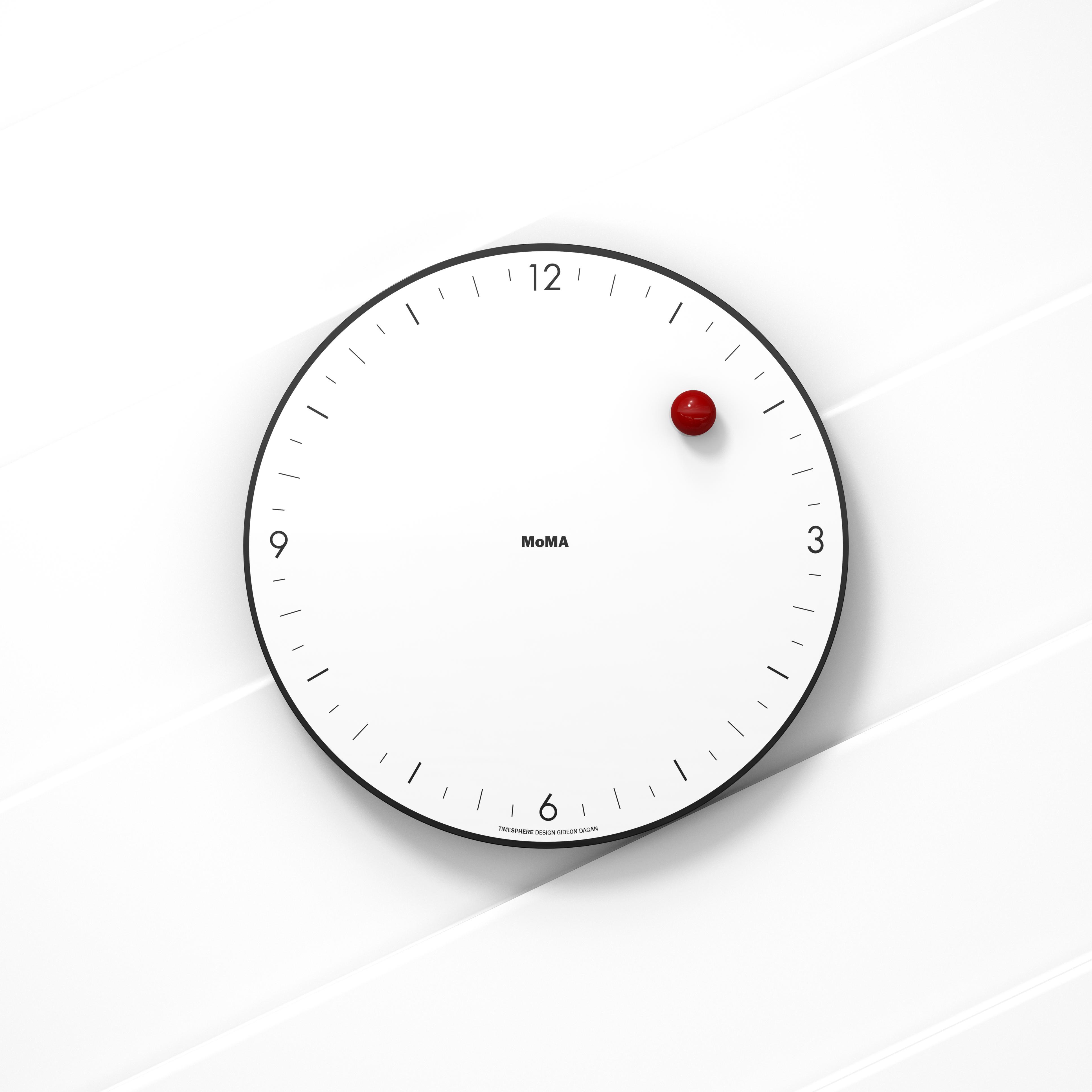 Design:
Moma "Timesphere"
The wall clock "TimeSphere" by Israeli designer Gideon Dagan (and commissioned by the Museum of Modern Arts, New York) is a real eye-catcher. Clear, minimalist typography on a white surface, framed by a thin, black border - and resting on it: a single, bright red, shiny ball! This acts as the hour hand and is moved along by means of hidden magnets. Although the design is mainly made of plastic and thus probably doesn't feel quite as valuable as we would have hoped, the visual effect, however, surpasses everything. And of course, reading the time as accurately as possible is definitely not the focus here - imaginative and creative representation of time, however, is!
Meidi's design proves that clocks can also just be fun. The designers play with both color and space, giving the wall clock thick, white, raised numerals for the even hours, while the odd hours get their shape using negative space - leaving holes in the main body. The tasteful and careful overlapping of the two types of shapes provides order and structure while the rich, green color ensures a bright and happy overall aesthetic. And if all this is a bit too much for you: the watch is also available in black!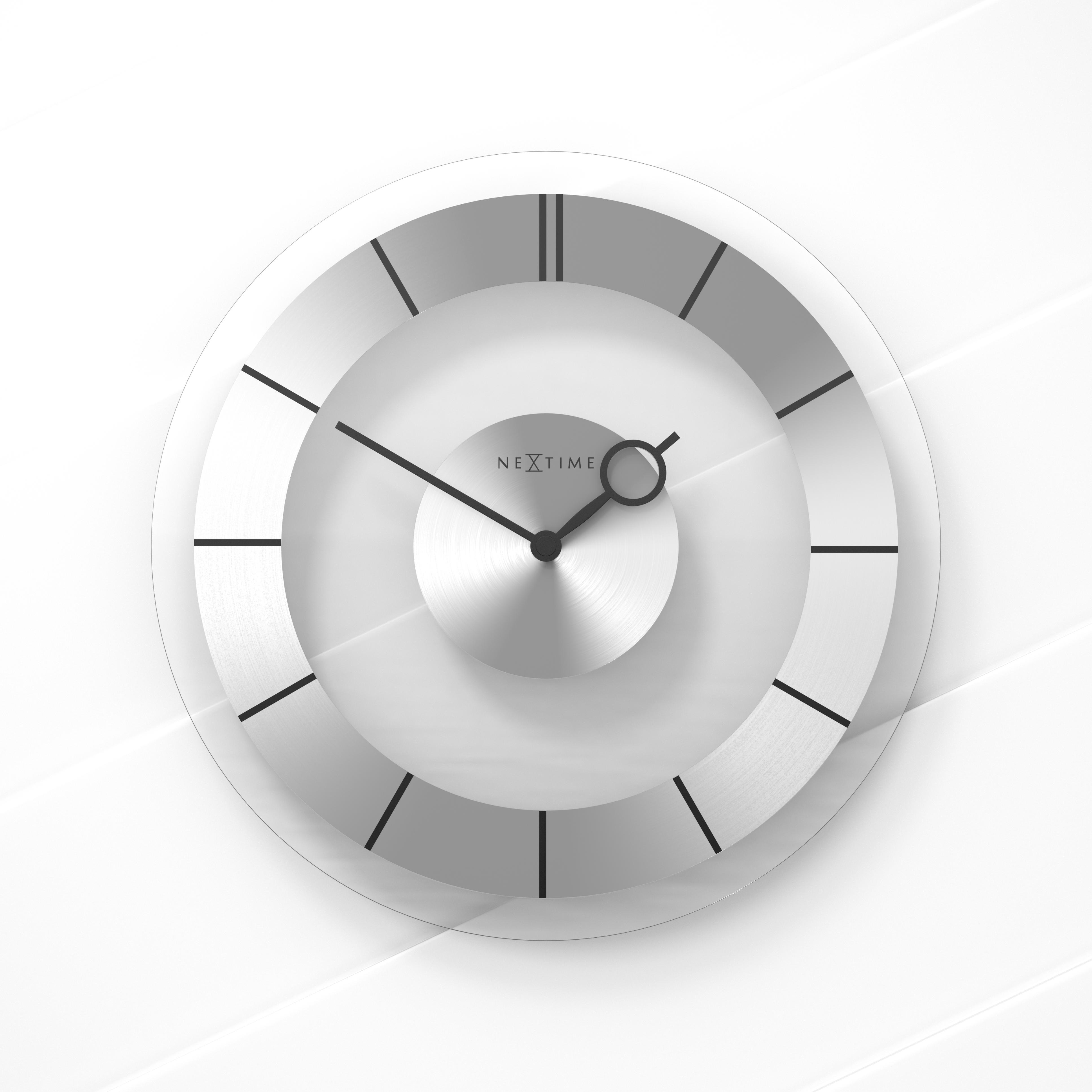 Founded in 1970, the "Nextime" design company revives the designs of the 60s with its glass and metal wall clock - without forgetting to add a modern touch. Thanks to the materials it looks simple and elegant, while the hour hand with the ring gives it a certain je ne sais quoi. A stylish element in any office and living room.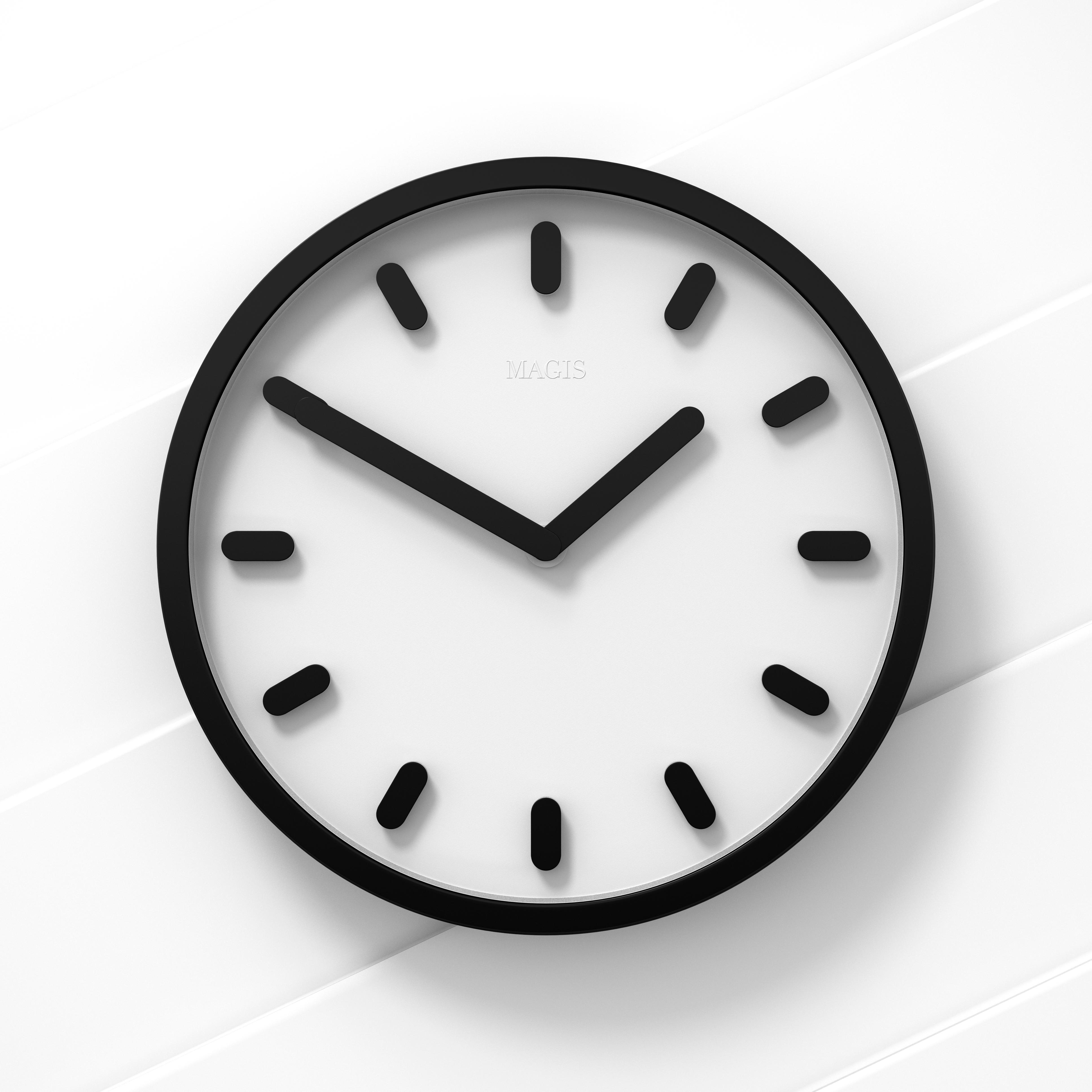 The designer Naoto Fukasawa is known for simple and, at the same time, complete and holistic design - some of his works are part of the permanent exhibition at MoMA in New York and, since 2007, he has held the title of "Honorable Royal Designer for Industry", awarded to him by the Royal Society of Arts. His wall clock design "Tempo" for Magis captivates our attention with a very gentle, soft and friendly aesthetic, which is ostensibly created by the curves of the hour markings and hands, but also by the clear language of exclusively white and black elements. The design carries the uniqueness of iconography while being cleanly crafted and of high quality. What else could you want from a wall clock?
Is it a steering wheel? A car rim? A prop from Wall-E? Not at all! One of the most unusual wall clock designs comes from Stelton. The minute hand is designed in such a way that it also forms the outer shape of the clock, while the hour hand does not have the connection to the outer edge. Original, innovative and an absolute eye-catcher in any room.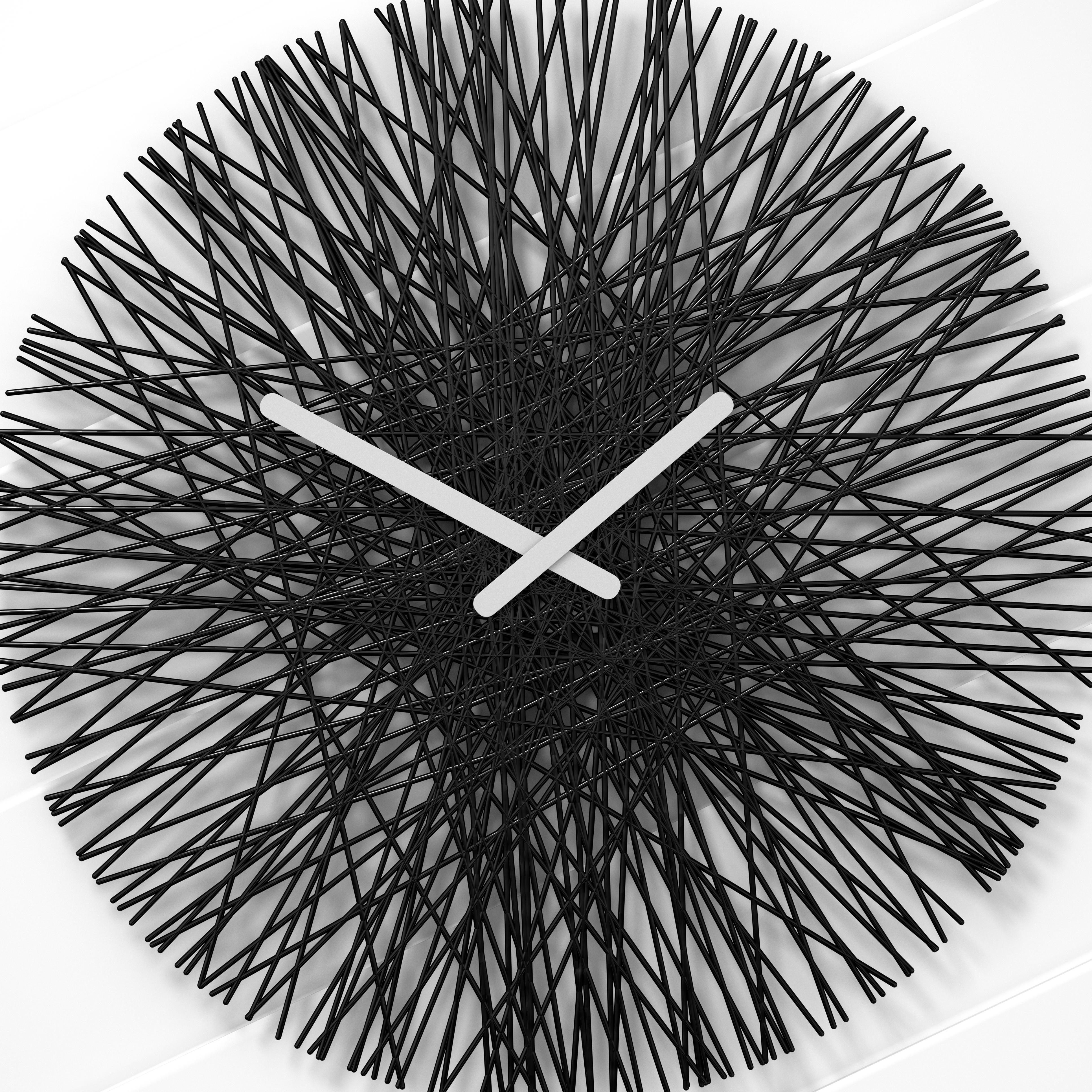 Koziol is a design workshop from the Odenwald region in Germany, founded in 1927 by Bernhard Koziol - and even today all design objects are still manufactured there in the town of Erbach. This is also the case with the "Silk" wall clock, whose wild yet artfully balanced arrangement of fused plastic rods manages to fascinate us every time we look at it. One of the company's official statements reads, paraphrasing, "We make art that people can pick up every day because it is useful." And while you obviously don't carry the wall clock around with you every day, we can wholeheartedly agree - artful, functional design, made in Germany!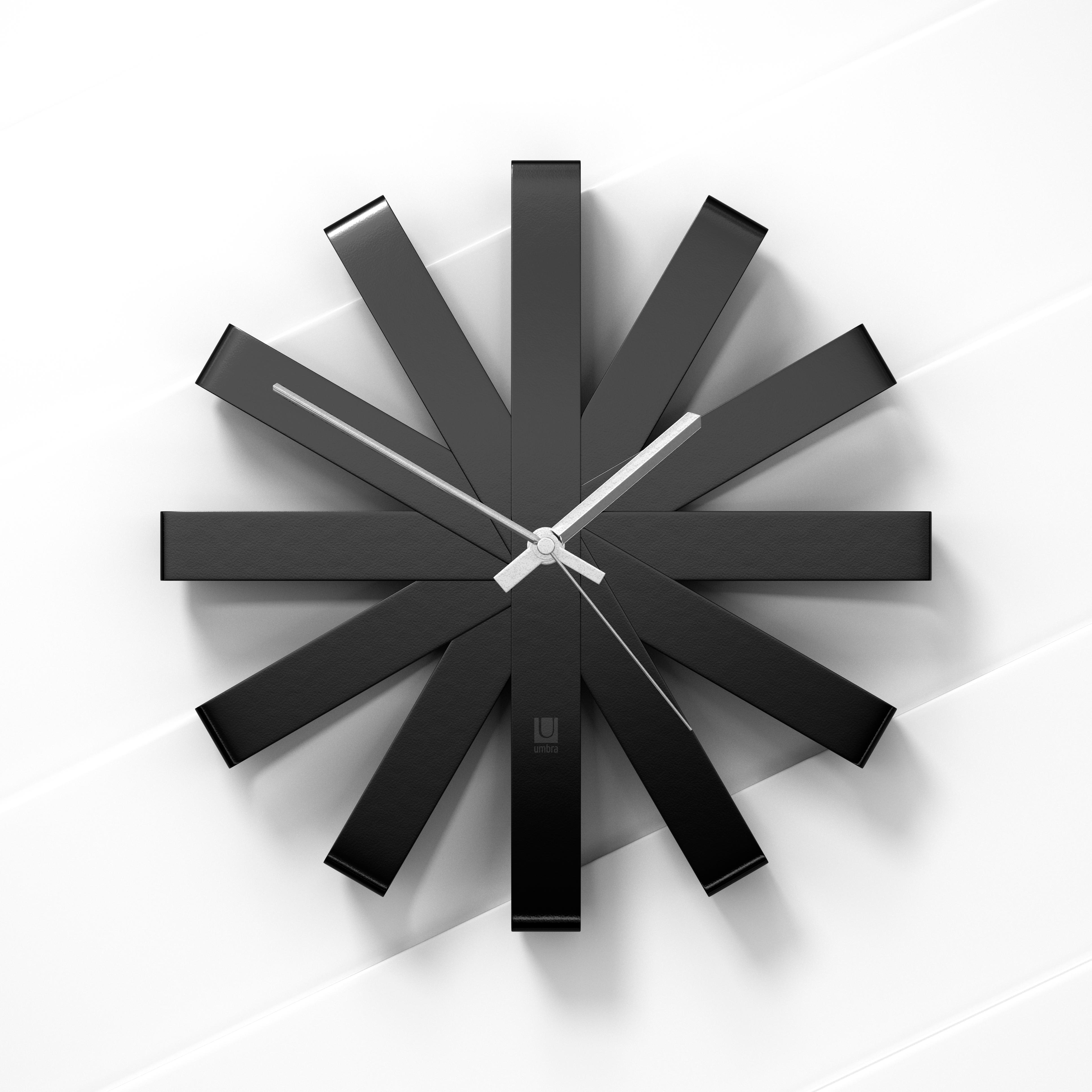 The design workshop Umbra inspires us with its wall clock design "Ribbon" - another example where the name matches the aesthetic perfectly. Six metal straps are bent and twisted against each other in such a way that they resemble the bow on a gift box - and while it's a pretty angular, constructed and modern bow, the metaphor still works brilliantly in our opinion. The clock is available in the material/color variants matte black, copper & stainless steel - all three are a sight to behold.
In this wall clock design, the designers of Karlsson have been inspired by the Japanese folding fan "Ōgi" or also "Sensu" - this not only becomes obvious in the naming but also the shape. Black lacquered steel was corrugated to create the concise folding pattern of the decorative fans known around the world. And that's all the elegant design is made of - there's no need for numerals at all, the two hands made of iridescent silver metal and the brand name are the only other visual ingredients - and we very much like it that way.
The wall clock design "ABI11" from Alessi takes us onto a roller coaster ride of emotions - cute, modern, elegant, playful, abstract and noble are just some of the partially contradictory adjectives that come to mind when we look at the shape of this original wall clock. Whether it's a child's room or an office, a kitchen or an entryway, we can't think of a room where it would be out of place. Highly extraordinary indeed.
The wall clock by KKlock differs significantly from the previous designs by displaying a very organic and soft aesthetic. Made of composite wooden slats, it delimits the hour areas with gentle hollows that were ground into the wood and rounds off its overall effect with unpretentious hour, minute and second hands made of black metal with rounded corners. A carefully carved inscription "Live the slow life" is a constant reminder that we should think carefully about how we use the time we're given.
Design:
Likeluk "Vintage"
The wall clock from Likeluk pleases us with a rustic vintage look. Six simple wooden slats made of solid wood form the back wall of this large wall clock with a diameter of 40 cm. Frame, numerals and hands, on the other hand, are made of iron, which looks like it has already seen decades and weathered some storms . With its pastoral style, this wall clock can either complement a traditional living room or attract attention in a modern environment.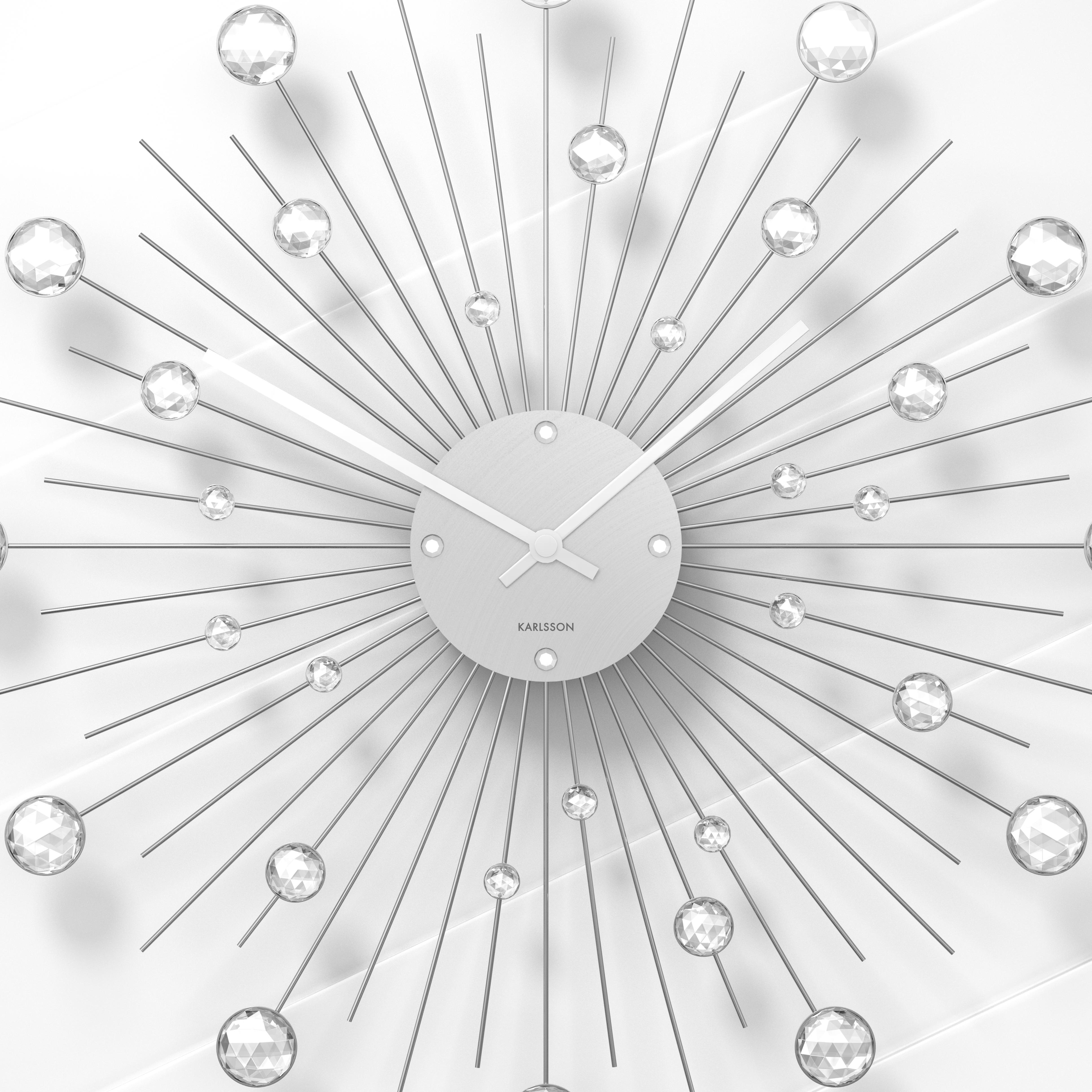 Design:
Karlsson "Sunburst"
The designers at Karlsson have taken a completely different design direction: Starting from a small metal disc, thin metal struts extend far into the room at quarter-hour intervals. Attached to the metal struts are glass crystals in 3 different sizes - these are also responsible for the name "Sunburst" and embody the "explosion of light". The largest "diamonds" mark the hour sections, while the smaller ones are tastefully distributed on the struts without following a fixed pattern. In our opinion, the design performs a tightrope walk between kitsch and pompous, and indeed brightens up any room.
Design:
Calleadesign "Karl"
Based in the Italian province of Trieste, the design workshop Calleadesign has a wide portfolio of exciting and unique design objects. One of them is the wall clock "Karl", which sports a compelling, simplistic geometric shape. While the manufacturer offers the clock in a wide variety of shades, we picked the rich Robin red as the winner. A great eye-catcher on any wall!
The "Cross" wall clock is a collaboration between German designer Jette Scheib and Dutch designer Chantal Drenthe and features a combination of cast stone (polyresin) and copper-colored metal elements. The visual division of time is made by small cylindrical plates in 12-minute intervals, while the hour and minute hands get their expansive shape from narrow metal straps and are thus defined only by their contour. We can't really classify this design, which in itself shows that we're dealing with something special.
More products on Designgeek